The Bench Mark in Tools.
If you need to contact us, please visit our contact page here.
Tools4.co.za is a network of online tool stores, each specializing in a different sector. We aim to satisfy the differing demands of our clients across various industries by supplying a wide and ever increasing range of tools and accessories, and equipping our clients with the know-how to use those tools.
From hand tools to industrial machinery, and everything in between, Tools4 offers the largest range of tools in South Africa, handpicked for your industry.
Additionally, products from multiple stores can be ordered in a single cart, and a single registration gives you access to our entire network. Additionally Bench Marks, our loyalty currency, can be earned and spent across our entire network.
We are constantly expanding our range, and welcome any and all feedback from you, our most valued clients.
Tools4.co.za is the follow on form Tools4Wood.co.za which was founded in 2013 as a specialist fine woodworking webstore. Our aim is to provide our customers with quality woodworking tools, and equip them with the know-how to use those tools. As such, our webstore includes an ever growing range of tools, a selection of project plans ranging from novice to expert, woodworking tips, how-to videos and product reviews.
One of our highlights since we started was being profiled on the John Robbie show during the 702/Nedbank Business Accelerator Program, both in 2013 and 2014. This platform contributed to significant growth levels resulting in additional employees joining the team, a broader range of brands and better value for our customers.
Listen to our On-Air interview below.
Most recently, we have acquired the first of a new fleet of delivery vehicles enabling us to deliver our customer's orders even faster.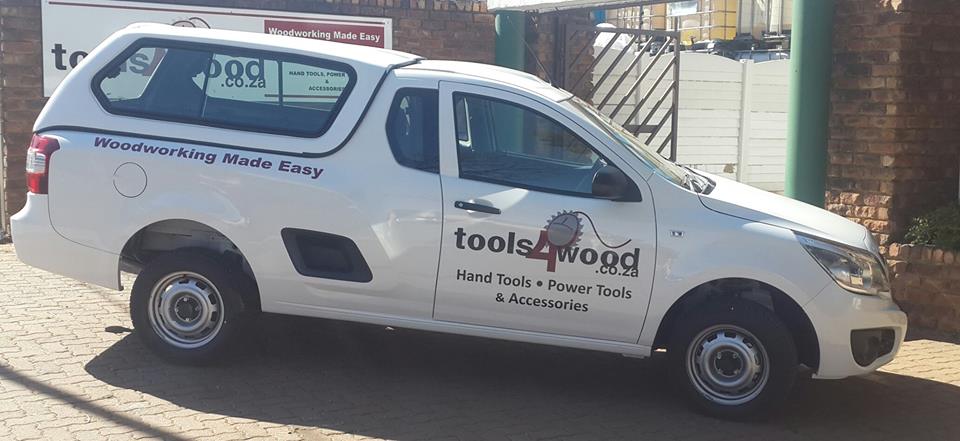 In October 2014 we opened our physical store in Alberton, in the south of Johannesburg where we offer a face-to-face and interactive customer experience. While we carry a range of stock at our store, we do not carry all the products featured on our webstore. We look forward to welcoming you to our new store.

Another noteworthy contribution to our growth has been the customer support we receive. We will continue to foster your love for woodworking because we could not have achieved this success without you.
Tools4Wood.co.za – Woodworking made easy. South Africa's fine online woodworking shop and blog.